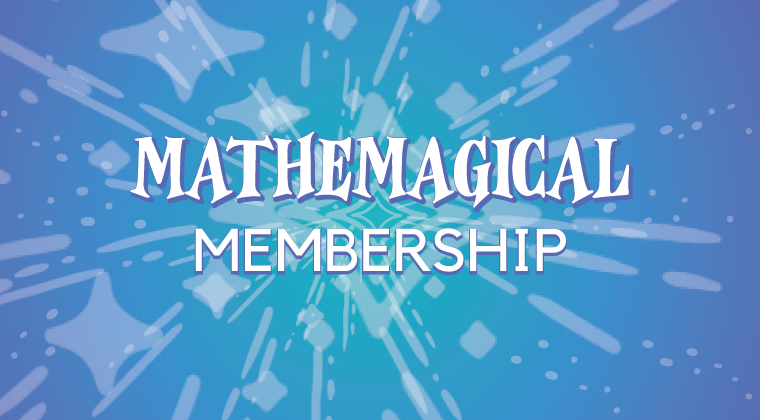 ---
Are you an educator seeking continued support and resources beyond the Decoding Math course?
Do you wish you had access to a structured sequence of lessons and resources for math instruction and interventions?
Would you like to co-create this work with a collaborative community of other passionate Math Educators?
---
Introducing… Mathemagical Membership
The Mathemagical Membership is a transformative annual or monthly subscription designed to provide math educators with continuous training, comprehensive support, and valuable resources, as well as a vibrant community of like-minded colleagues. Let's do this important work together!
Who is it for?
This membership is designed for passionate educators who have completed the Decoding Math course and want continued learning, support, lessons, and resources for providing effective math instruction and interventions. Mathemagical is intended to go beyond what is taught in Decoding Math, helping educators to implement the new strategies and instructional approaches they have learned. This membership is ideal for any math educator who is navigating the complexities of providing math instruction and interventions while serving a diverse range of student needs. 
We start January 3, 2024!
---
What's Included:
Monthly Training: 2 monthly training sessions focusing on essential topics such as math assessments, interventions, and member-driven themes like word problems, multi-digit operations, and more.
Live Q&A Sessions: Engage in interactive Q&A sessions, enabling you to seek expert advice and collaborate with fellow educators in a supportive community environment.
Lessons & Resources: Access lessons, resources, and sequential guidance for teaching essential math concepts.
The long-term goal will be to have a comprehensive curriculum with the lessons and resources needed to provide effective instruction! This will be a work-in-progress and we will co-create these resources together. Each month we will have a theme and will focus on developing lessons and resources on that topic.
Over time, you will gain exclusive access to a curated curriculum of sequential lessons, designed for both general education classes and interventions, along with a treasure trove of additional instructional resources for K-8 math instruction.
Member Shared Lessons: Collaborate and co-create a diverse collection of lesson plans and resources with a vibrant community of like-minded educators, fostering an atmosphere of shared knowledge and expertise.
Come share the wonderful work you're doing and benefit from the resources and lessons that others have already created!
---
Why Join Mathemagical?
Access to Structured Guidance: Benefit from the development of a structured framework that provides comprehensive guidance on assessing, providing math instruction, implementing interventions, and monitoring student progress.
Collaborative Learning Community: Engage in a dynamic community where educators collaborate, share insights, and co-create impactful lesson plans, fostering a collaborative environment for mutual growth and development.
Continuous Professional Development: Stay updated with the latest strategies and methodologies in math education, enhancing your teaching techniques and creating a magical learning experience for your students.
---
The Mathemagical Membership will help you have:
Enhanced ability to craft engaging and interactive math lessons, fostering an effective learning experience for students.
Improved skill set in addressing diverse learning needs, creating an inclusive environment for all students.
Proficiency in implementing a structured numeracy teaching approach, incorporating various methodologies for effective math instruction.
Strengthened capability to demystify complex mathematical concepts, leading to increased student understanding and retention of key principles.
Access to comprehensive and easily accessible resources, supporting math interventions and supplementing classroom instruction.
Continuous professional development, staying updated with the latest educational strategies and methodologies to improve teaching practices and student outcomes.
---
Registration and Pricing:
Don't miss the exclusive Early Bird rate of $29 per month or $297 per year, offering exceptional value for a wide array of resources and ongoing support. As our repository of resources expands and the curriculum grows more comprehensive, the rate will increase, making this the perfect time to join our vibrant community of dedicated educators.
Join us and unlock the transformative power of collaborative learning and comprehensive teaching resources today!
We start January 3, 2024!
Registration opens soon…
Register Now